St Croix Hotels, Resorts, and Accommodations
St Croix Hotels: What sort of place should you choose?

You'll encounter a wide array of choices in accommodations on St Croix. There are several high-end luxury resorts and a number of small and medium sized hotels and inns.

You'll also find a wide selection of condominium resorts, as well as private vacation homes and villas. You can even stay at a campground!

So how do you choose?

Start by deciding what areas and attractions on St Croix you'll want to explore. Of course, your budget is also something you need to consider.

If you're staying for more than a few days, you may want to consider staying in a couple of different St Croix hotels on different parts of the island.

Of course, your personal taste is also important. Do you prefer the large size and array of activities at a big resort? Or the intimate, homey setting of a small inn?

Do you prefer to be in the heart of town, or right on the beach? Or maybe the "home away from home" convenience of a rental condo or villa?

Note: All rates quoted are for the high-season; low-season rates will be about 60% to 75% of high rates. Remember to add 8% hotel tax and (in most cases) a 10% service charge to the rates.


St Croix Hotels: Large Resorts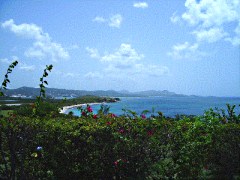 The Buccaneer is one of the legendary resorts in the Caribbean.
It's become the standard that luxury St Croix hotels and resorts are measured by. It was built in 1947 a couple of miles east of Christiansted. Set on 340 beautifully landscaped acres that were originally the site of
a sugar plantation and cattle ranch dating from the 1650's.

The Buccaneer has the feel of a country club, with just about every amenity imaginable including an outstanding sports program with golf, tennis, and watersports, and three excellent beaches. Also known for excellent cuisine, with five restaurants.

The Buccaneer offers a wide choice of accommodations from standard rooms to cottages to deluxe suites. Rates are $325 to $945 nightly, with special packages offered.

Phone: (800) 255-3881, (340) 712-2100
Fax: (340) 712-2104
Email: mango@thebuccaneer.com
Mail: PO Box 25200
Christiansted, VI 00824

Carambola Beach Resort is about 30 minutes' drive west of Christiansted on the island's northwest coast. The large resort is situated in a lovely, lush setting overlooking Davis Bay. Carambola is one of the only resorts that offers serious competition to the luxury and elegance of the Buccaneer.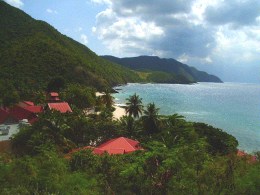 The resort consists of 26 two-story buildings, each containing 6 individual suites. Beautifully decorated and appointed buildings and rooms, with landscaping to match.
Amenities include two restaurants, pool, world-renowned golf course, tennis courts, exercise room, spa, whirlpool, watersports and white-sand beach known for its very good snorkeling. Rates start at around $280 a night.
Phone: (888) 503-8760, (340) 778-3800
Fax: (340)778-1682
Mail: Estate Davis Bay
Kingshill, St. Croix, Virgin Islands 00851
Divi Carina Bay Resort and Casino
offers the only casino in the U.S. Virgin Islands. It's the only place among St Croix hotels situated on the southern coast. Located near the eastern tip of the island on a 1,000 foot sugary, white-sand beach.
The hotel offers 126 ocean front rooms plus 20 ocean view villas behind the main building. Amenities include a gourmet restaurant, pool, spa, exercise studio, tennis courts, basketball courts, and watersports center. Rates run from $315 to $425 nightly.
Phone: (877) 773-9700
Fax: (340) 773-6802
Mail: 5025 Estate Turner Hole
Christiansted, VI 00820
St Croix Hotels: Condominium Resorts
You'll find a good variety of condo-resorts on St Croix, covering a wide range of price and quality. Some offer the service and overall feel of a hotel, others are more reminiscent of residential apartments.

To learn more about condo rentals on St Croix, click here.


Private Homes and Villas
You might consider a private rental house or villa instead of a traditional hotel.

To learn more about private vacation rental homes and villas on St Croix, click here.


St Croix Hotels: Small and Medium Resorts and Hotels
There are many St Croix hotels that fall into this category, ranging from quite luxurious to simple budget accommodations. Here's a list of just a few.


Chenay Bay Beach Resort
is situated along the north coast of St Croix, just east of the Buccaneer (about three miles east of Christiansted). It features 50 cottages in a very nicely landscaped setting, all on or near the beach.
The grounds are lush and green, and make for
a quiet, relaxed environment. There are some very nice old plantation ruins on site. The beach is considered one of the best on the island.
Cottages are equipped with a/c, phones, TV, and good kitchenettes with cooktop, microwave, toaster, and coffeemaker. There's also a casual restaurant on site. The resort is very kid-friendly, and has a daily kids' program (almost like a day-camp) to keep the little ones occupied. Rates range from $270 to $590.
Phone: (800) 548-4457, (340) 773-2918
Fax: (340) 773-6665
Email: reservations@chenaybay.com
Hibiscus Beach Resort
offers 36 nice rooms in five two-story buildings. It's located about three miles northwest of Christiansted at one of the island's better beaches. All rooms have private balconies or patios and face the water, some closer to the beach than others.
Rooms have A/C, TV, fridge, microwave, and coffeemaker. There's also a popular restaurant on-site and a pool. Rates run from $180 to $250 nightly.
Phone: (800) 442-0121, (340) 718-4042
Fax: (340) 718-7668
Email: info@hibiscusbeachresort.com
Mail: 4131 La Grande Princesse
St. Croix, VI 00820-4441
Tamarind Reef Hotel
is on the North coast about two miles east of Christiansted, adjoining Green Cay Marina. It has 46 rooms, most with ocean views. Nearly half the rooms are equipped with kitchenettes. All rooms have patios or balconies, A/C, TV, fridge, and coffeemaker.
There's a good beach here with fine snorkeling, and the hotel provides complementary snorkeling gear and sea kayaks to guests. There are also tennis courts and a pool. Rates are $300 to $400 nightly.
Phone: (800) 619-0014, (340) 773-4455
Fax: (340) 773-3989
Email: reservations@tamarindreefhotel.com
Mail: 5001 Tamarind Reef
Christiansted, VI 00820
Cottages by the Sea
is a small, pleasant, homey place on a very good beach just south of Frederiksted, on the island's west coast. It's a collection of cottages, some right on the beach and others just steps away.
Units are equipped with TV, A/C, private patios, and fully equipped kitchens. There's also a very good restaurant just a few steps up the beach. The place has a very friendly, intimate, "down-home" feel. Rates are $105 to $205 a night.
Phone: (800) 323-7252, (340) 772-0495
Fax: (340) 772-0495
Email: vacation@caribbeancottages.com
Mail: 127A Estate Smithfield
Frederiksted, St.Croix, VI 00840
St Croix Hotels: In-Town Accommodations
Best Western Holger Danske is right on the waterfront of downtown Christiansted, overlooking the harbor. Rooms feature A/C, TV, phone, balcony, fridge and coffeemaker; some rooms have "mini-kitchenettes". There's a pool and also a restaurant on the boardwalk overlooking Christiansted Harbor. Rates are $112 to $132 a night.

Phone: (340) 773-3600
Fax: (340) 773-8828
Mail: 200 King Cross Street
Christiansted, Virgin Islands, 00820-5023

Danish Manor Hotel is in the heart of Christiansted. It offers 36 rooms and suites on three floors with A/C, TV, phone, and refrigerators. Only a few of the rooms have water views, but there is a small pool. There's a popular Italian & seafood restaurant adjacent. Rates are $120 to $210 nightly.

Phone: (340) 773-1377, (800) 695-8284
Fax: (340) 773-1913
Mail: 2 Company Street
Christiansted, VI 00820

Hotel Caravelle is the biggest of the St Croix hotels in the historic section of Christiansted. It's located right on the water, overlooking the harbor and Protestant Cay. Rooms have A/C, TV, phones, and refrigerators. The hotel is popular with business travelers as well as those who want to be right in the middle of things.

All rooms have similar amenities, but are priced based on view; some look out on the water, others open toward the parking lot. There's also a two-bedroom penthouse suite. An award winning restaurant is adjacent. Rates are $135 to $299 nightly.

Phone: (800) 524-0410, (340) 773-0687
Fax (340) 778-7004
Email: info@hotelcaravelle.com
Mail: 44A Queen Cross Street
Christiansted, St Croix, VI 00820

King Christian Hotel is yet another among St Croix Hotels directly on Christiansted's waterfront. It's located right across from the historic park dominated by Fort Christiansvaarn. The hotel itself is a historical building, over 200 years old. The hotel has a good pool and fitness center plus two restaurants.

Rooms are bright and airy, with tropical decor and equipped with TV, A/C, and fridge. Some rooms have water views and balconies. There's also a two-bedroom luxury suite. Rates are $135 to $280 nightly.

Phone: (340) 773-6330
Email:info@kingchristian.com
Mail: P.O. Box 24467
Christiansted, St. Croix, VI 00824-0467

Frederiksted Hotel is a modest, contemporary hotel on the Frederiksted waterfront. It has 36 rooms in four stories. Half the rooms face the sea, the other half face the courtyard and pool.

Rooms are airy, and have TV, A/C, phone, fridge, and microwave. Superior rooms also have coffeemakers and electric kettles. Rates range from $110 to $180.

Phone: (340) 772-0500
Fax: (340) 719-1272
Email: info@frederikstedhotel.com
Mail: 442 Strandstreet
Frederiksted, St. Croix, VI 00840


Return from St Croix Hotels to Homepage