Virgin Islands Cities
Virgin Islands cities are the places to go when you're looking for the best selection of shopping, restaurants, hotels, and historical sights.

Of course, cities in the USVI aren't exactly like cities in other places. After all, the entire population of all three of the U.S. Virgin Islands combined is only around 120,000. To put it in perspective, that's about the same population as Evansville, Indiana or Abilene, Texas. So when we talk about cities in the Virgin Islands, we're not talking Chicago, London, or Tokyo!

But these are the centers of population and commerce in the islands, and there's plenty of history to explore, so in that sense they are cities.


Virgin Islands Cities: St Thomas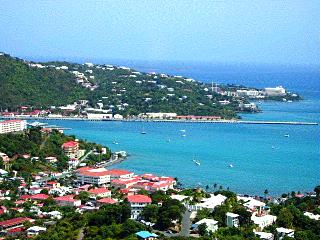 The capital of the U.S. Virgin Islands is also the biggest of the USVI cities. Virgin Islands fans will tell you that Charlotte Amalie (pronuonced ah-mahl-yah) is the lively, bustling heart of St Thomas.

The population is just 19,000, less than many small towns in the U.S., but as far as the Virgin Islands are concerned, this is the big city. Though the permanent population is small, there are 1.5 million cruise ship visitors coming here annually. It's the busiest cruise ship port in the entire West Indies.

It might be the only place in the Caribbean where you'll see regular daily traffic jams! The shopping is legendary, with a downtown shopping district many blocks in size, another sprawling shopping area at the cruise ship dock, and the third, and newest, in between the other two.

There are lots of eating places of all kinds, from basic food stands to fancy restaurants. And the largest concentration of Saint Thomas hotels, inns and guesthouses is in and around Charlotte Amalie. There are also plenty of historical sights in Charlotte Amalie, going back to the 1600's.

Like any city, this one has its share of problems. You probably won't be treated like a long-lost friend when you're here; as a matter of fact, people complain that the "friendliness factor" is decidedly lacking. (I've found, though, that if you treat people here with genuine courtesy and personal interest, you'll be treated in kind.) There are also some neighborhoods where it's simply unsafe; muggings and petty theft aren't uncommon. But, after all, these are the same concerns you'd have in any city; so don't let it stop you from visiting.


Virgin Islands Cities: St Croix
Christiansted
Christiansted is the larger of St Croix's two cities. I've heard Christiansted described as an 18th century Danish town transported to the tropics. That's an apt description.

When exploring this town, you'll be walking on 17th and 18th century cobblestone sidewalks shaded by beautiful arched collonades. You'll see rows of charming little shops that make their homes in buildings erected over 300 years ago. You'll also find a series of historically preserved buildings, painted bright yellow as they were when built in the 18th century.

Christiansted offers you a pleasing blend of historical attractions and modern commerce. The town is located on St Croix's north coast, and many of its nicest buildings are right on the historic waterfront.

There are plenty of good restaurants in and around town. There's also a variety of accommodations, some right in town and many more nearby.

If you're visiting St Croix, you certainly should spend some time in Christiansted.


Frederiksted
Frederiksted is located on St Croix's west end, and is noticeably smaller than Christiansted.

The town has a decidedly Victorian style. After a major fire which destroyed much of the town in the 19th century, things were rebuilt in the Victorian manner, replacing the older Danish architecture. There are, however, still some Danish-style buildings that survived the blaze.

Frederiksted is really a small, charming town. It's certainly not as busy as Christiansted, and in the summer off-season, it's downright sleepy.

However, when it comes to Virgin Islands tourism, Frederiksted still has it's attractions. There are some nice historic sights, a few shops and businesses, and restaurants and hotels in and around town. There's also a nice waterfront park and an attractive pier stretching out over the water.

Since several of St Croix's best attractions are around the western part of the island, Frederiksted makes a nice "base of operations" when you're exploring these attractions.


Virgin Islands Cities: St John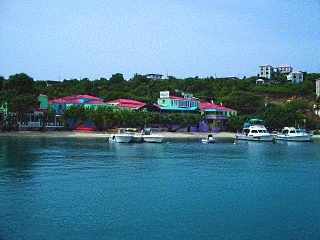 Let me be blunt; even by local standards, Cruz Bay can't be called a Virgin Islands city. It's a lively, bustling, happening little town, but it is a little town. Really a small village.

You can walk across it in under ten minutes, and tour pretty much the whole place on foot in an hour. Still, it's St John's principal "city", so I'm including it on this Virgin Islands cities page.

Cruz Bay is the main entry point to St John, home to the ferry dock from which you get to and from St Thomas. When I first came here over thirty years ago, Cruz Bay was hardly more than a dusty cossroads. There were just a couple of streets branching off from the ferry dock, a post office, a couple of jeep rental places, a church, one small market and a tiny shopping center.

Since then, it's grown tremendously. Now there are lots of great places to eat, a number of shops ranging from funky to elegant, and several popular watering holes. There are also a number of inns and rental condo complexes, as well as a couple of good groceries, and a bunch of real estate offices (check out Virgin Islands homes for sale!). It's become a popular, hopping little town.