Charlotte Amalie
Charlotte Amalie is the Capital of the U.S. Virgin Islands. It's a busy, jumping, lively town, known for its mix of shopping, history, and modern tourist attractions. You might say that it's the closest thing to the big city in the Virgin Islands.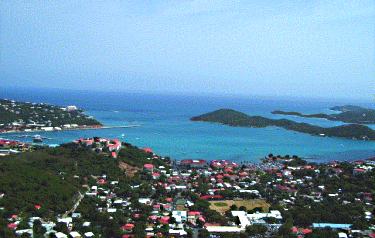 You'll find the town midway along the south coast of St Thomas. It's at the head of the spectacular St Thomas harbor, sheltered by rising green peaks surrounding it on the landward side, and by the hills of Hassel Island and Water Island on its seaward side.
Red-roofed, white and pastel buildings cover the coastal plains and sweep upward along the steep hillsides that surround the downtown. These picturesque hillsides are dotted with houses, apartments, and historical buildings.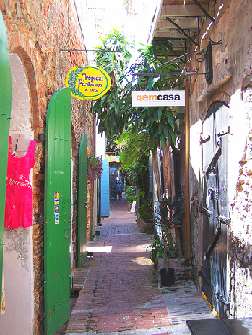 The downtown area is filled with
chic shops selling designer clothes and handbags, swiss watches, electronics and cameras, name-brand leather goods, and a multitude of other items.
The shops are housed in old stone buildings that were once colonial warehouses, used to hold sugar, cotton, slaves, and pirate loot in past centuries.
The former warehouses stretch
back from the waterfront, forming dramatic, narrow stone and brick alleyways.
On the eastern edge of the harbor, just east of downtown, you'll frequently see as many as three or even four enormous cruise ships
docked simultaneously. This is the most popular cruise ship port in the entire West Indies.
When several of these immense ships disgorge their passengers at the same time, the town (especially the shopping district) becomes an overcrowded, swirling beehive of activity. During these times it can be difficult to even move around. You'll find the sidewalks teeming with visitors and the streets crowded with taxi traffic.
Of course, there are lots of reasons the town enjoys this level of popularity. For starters, it's considered the most picturesque port in the West Indies.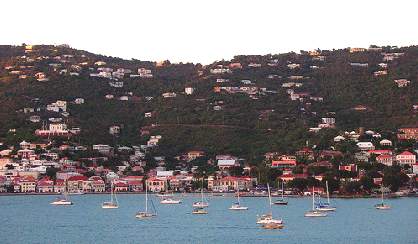 There are plenty of attractions for you to see besides the shopping. The town positively oozes history. In addition, the selection of restaurants, nightlife, and entertainment is among the best in the Caribbean. The town is also a major stopping-off point for side trips to St John, the British Virgins, and other nearby islands.
Your reaction to Charlotte Amalie will largely be a matter of personal taste. If all you're looking for is some seclusion, peace, and quiet, this isn't the place for you. But if you want to experience a lively, busy Caribbean crossroads, Charlotte Amalie may be just what the doctor ordered.
Cruise and Travel Info, Advice, Facts and Tidbits of Information:
Do you love to travel? Do you love to cruise? Avoid common mistakes and hassles. Take a peek.
Return from Charlotte Amalie to Homepage
---
Photo credits: Town from harbor by Zesmerelda,
Shops in alley by Zachary Tirrell