Virgin Island Resort Guide
In this Virgin Island resort guide, I'm going to share some insights and general information for you when you're considering the various Virgin Islands resorts.

Here's where I'll give you some ideas about what constitutes a true resort, as opposed to other kinds of Virgin Islands hotels and accommodations. You'll also learn the various kinds of Virgin Island resort options available to you.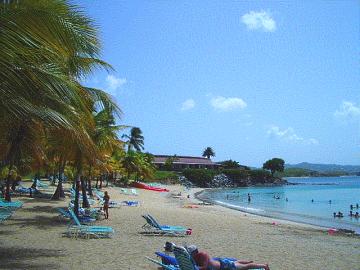 Virgin Island Resort:
A Definition

Let me share a secret with you. There are lots of Virgin Islands hotels and other accommodations that call themselves "resorts". I've seen small, seedy, run-down places with virtually no amenities calling themselves resorts.

So what makes a place a "real" resort? The dictionary defines "resort" as "a popular place of entertainment or recreation". That's pretty general, isn't it?

So let me give you my own definition. I think of a resort as a hotel that provides a decent variety of amenities in at least a reasonably nice setting.

Of course, the very high-end resorts provide a lot more than that. At top Virgin Islands resorts, you'll get just about every kind of amenity, including multiple restaurants, shops, pools, tennis courts, watersports facility providing a full array of activities and equipment, and, of course, a beautiful beach (sometimes several)!

You'll also find a very high level of service, including things like tours, a variety of activities, and frequent entertainment, often nightly. Of course, these resorts are high-priced, but the money you spend will buy a lot of services and amenities.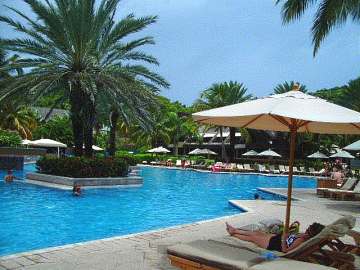 Next you'll find a number of Virgin Islands resorts that might be described as "second level". These are still very nice places, with somewhat fewer amenities and services than the very top resorts. These kinds of places usually have at least one restaurant (sometimes two), a high level of service overall, and very good rooms.

They're generally on a good beach, often with a watersports center of some kind. Activities and services vary from one place to another, and prices vary accordingly.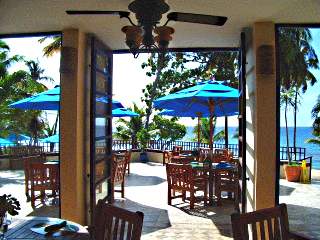 Finally, there are the small USVI resorts, places that provide nice service and rooms, but with relatively limited amenities.