St John Restaurants: Favorite Dining Picks
St John restaurants offer a surprising array of tasty food choices, considering what a small island St John is. You'll find everything from basic "street food" to elegant restaurants serving world class haute cuisine.

When I first came to St John over thirty years ago, there was hardly any restaurants on the island. How things have changed!

These are my personal picks and recommendations based on my own experience and the experiences of friends and folks I trust.

Remember, this list is in no way a comprehensive rundown of St John restaurants, just a sampling based on experience. You'll find plenty of other great places to eat on the island; when you do, let me know!

At the bottom of the page, I've listed a few special picks and mentions; take a look and give 'em a try!


Inexpensive:
Considering that almost everything has to be shipped into the island, there are a surprising number of inexpensive St John restaurants and eateries.
Chilly Billy's: Open for breakfast and lunch, serves breakfast all day (open 8am -2pm). Good food, good value. In Cruz Bay at the Lumberyard Complex.
Donkey Diner: In Coral Bay on the east side of the island, this casual breakfast cafe serves great American-style breakfast at a very good price. They also make great pizza on Wednesday and Friday nights only.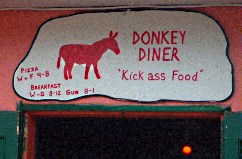 Hercules: Real Caribbean fare, just across from the Lumberyard complex. Try the Pate (pronounced "patty"; pastry filled with meat or vegetables) or the Conch.
Ronnie's Pizza: Good pizza and salad bar. Take out or eat in. Near the Dolphin Market in Cruz Bay.
Skinny Legs: An island legend! Out east in Coral Bay, this funky open-air place serves the best burgers on the island (some say the best anywhere!) Also serves salads, wraps, sandwiches.
Uncle Joe's BBQ: Delicious! Great BBQ ribs and chicken, BIG portions, great value! Great homemade chocolate cake, too.This place is popular, so best to get here fairly early (or they may run out of food!) It's a good idea to call ahead. They have a few tables, but it's basically a take-out place.
Woody's Seafood Salon: Ever popular, casual, fun, and always jumping! Very good, inexpensive, basic seafood fare like fish sandwiches, conch fritters, and fish & chips. Eat in or take out, open late. In Cruz Bay, right across from the First Bank.
Moderate:
There are lots of good choices in St John restaurants in the medium price range. Here are a few good bets.
Aqua Bistro: In Coral Bay, a very pleasant and casual open-air terrace set right next to the sea. Good American cuisine like burgers, steaks, seafood, soup & salad, etc.
Cafe Roma: Real Italian food at modest prices, right in Cruz Bay right around the corner from Woody's Seafood and upstairs, in a bright tomato-red building. They also serve good pizza that you can eat in or take out.
China Shack: Upstairs in the Marketplace, Cruz Bay. A few tables, or you can take-out; they also deliver to nearby addresses. Good food, and it's a real treat to watch the chef, Miss Meagan, whipping up one dish after another right across the counter while you wait for your meal.
The Fish Trap: At Raintree Court in Cruz Bay. Many say this is the best seafood in St John. Features several kinds of fresh fish and nightly specials.
Happy Fish: Good quality sushi at very fair prices, located in the second floor of the Marketplace in Cruz Bay.
Lime Inn: In Lemon Tree Mall in Cruz Bay, this place serves good seafood (they're known for their grilled Caribbean lobster) as well as chicken, pasta, and steak. Try the Chicken Wellington!
Miss Lucy's: Real island cuisine by local legend Miss Lucy. Located past (south of) Coral Bay on the way to Salt Pond Bay. Great place to sample genuine Caribbean foods like conch fritters, callaloo soup, and the freshest local fish.
Expensive:
Chateau Bordeaux: Fabulous views out toward the BVI's from one of the highest points on the island. Traditional fine French cuisine in a romantic atmosphere.
Chloe & Bernard's: Elegant continental cuisine, located at the luxurious Westin Resort.
The Equator at the Sugar Mill: Located at Caneel Bay Resort on the north shore. Perhaps the most elegant of all St John restaurants (they have a dress-code!... so leave your flip-flops and T-shirts behind!). The fare is pricey, but the menu is impressive and the quality is unsurpassed. Gorgeous setting, too.
Stone Terrace: Right on the harbor in Cruz Bay (across from Wharfside Village). Creative cuisine with a Caribbean flair. Great service, excellent wine list.
Here are some of my special picks and recommendations for St John Restaurants:
Best View:
Asolare: Up the hill above Cruz Bay, this high-end place offers amazing views over town and out to St Thomas.
Chateau Bordeaux: Set on a mountaintop, this is the highest of St John Restaurants, with spectacular sweeping views toward the British Virgin Islands.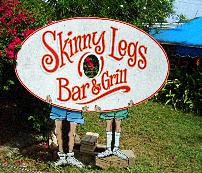 Best Hamburger:
Skinny Legs: This super-casual, fun place is known for some of the best burgers anywhere. In Coral Bay.
Caneel Beach Grill: Pricier than some others, but the burgers are excellent. At Caneel Bay Resort.
Beach Cafe at Westin Resort: Also on the pricey side, but a very good burger. A distance from the parking area, but nice beachfront setting.
Best BBQ:
Uncle Joe's BBQ: Maybe the best value of all St John restaurants; great quality; you get a big load of delicious ribs (or half a chicken) plus two generous sides for about ten bucks! And the food tastes great. My Favorite!
Return from St John Restaurants to Homepage
Return from St John Restaurants to Virgin Islands Foods