Virgin Islands Scuba Sites -
St Croix Scuba Sites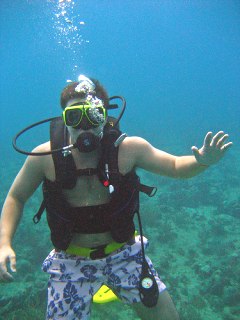 You'll find an outstanding variety of Virgin Islands scuba diving opportunities on St Croix.
Along the north shore, you can find some of the best walls and drop-offs anywhere. You can also dive some great spur-and-groove reefs on the north coast.

In the west, diving out of Frederiksted, you find coral gardens, some great wreck dives, and the phenomenal Frederiksted Pier.
Check out this list of some of the
most popular Virgin Island Scuba
diving sites around St Croix.

For Virgin Islands scuba sites around St Thomas and St John, click here.


Virgin Islands Scuba Sites -
St Croix's North Coast
St Croix is about 40 miles south of the other U.S. Virgin Islands, and has a different geology. Its north shore is particularly well-known for its wall dives, which are some of the best anywhere. Here are some of the more popular Virgin Islands scuba sites on St Croix's North Shore.
Cane Bay Wall: Very well known and popular beach dive, good for beginners as well as experienced divers. The wall is out about 200 yards. In the interim you'll see some small coral clumps in the shallows and very nice coral gardens near the wall in 30 - 40 feet of water. The sloping wall drops off to over 2,000 feet.
Great plate coral formations and elephant ear sponges here. Also lots of reef fish like blue chromis, creole wrasse, trunkfish, and large angelfish. You might see sharks in the deep water. You can also do boat dives here.

Gentle Winds: Named for the condo complex on the beach here. A popular site for newer divers, including those going for their certification. Gentle, sloping terrain in 40 to 60 feet of water. You'll find some of the best coral gardens anywhere on the north shore, with a wide variety of densely packed hard and soft corals. Plenty of reef fish plus lots of interesting invertebrates like sponges, bristleworms, lobsters, and nudibranchs.

Jimmy's Surprise: This is a big, dome-shaped pinnacle that rises from a depth of 95 feet to about 45 feet. It's covered with lots of sea fans, barrel sponges, vase sponges, gorgonians, and other invertebrates. You'll see jacks, grouper, and many reef species here. You might also see nurse sharks lurking at the base and turtles near the pinnacle. There are also some large morays around, as well as some big puffer fish. You might even get lucky and see hammerheads here!

Northstar Wall: A vertical drop that starts in just 20 feet of water. Excellent lighting makes it particularly good for photography. Because of the terrain here the sunlight often illuminates under ledges and into crevices, allowing you to see all sorts of things. At about 60 feet you'll see an antique Danish anchor lodged in the wall. You'll see lots of sponges and soft corals at this site. You may also see sharks or eagle rays.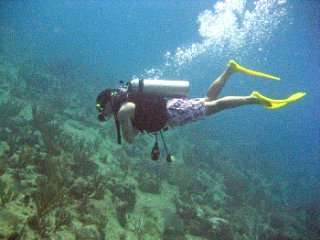 Salt River Canyon - East Wall: This is a sloping wall that starts at 40 feet and drops to over 1,000 feet deep. Probably the best site on the north shore for abundance of fish. You'll see a wonderful array of hard and soft corals, sponges, and other invertebrates. Schools of jacks, hogfish, and snappers abound. You're also likely to see groupers, large parrotfish, angelfish, and other reef species here.

Salt River Canyon - West Wall: Separated from the East Wall by a deep chasm, this site offers some dramatic terrain in the form of wonderful rock formations including ledges, overhangs, swim throughs, and rocky pinnacles. Starts in just 20 feet of water, dropping down to 1,000-plus feet.
You'll see purple tube sponges, black corals, and gorgonians. Schools of creole wrasse and yellowtail snappers swarm off this wall. In deeper water, you'll see barracuda, permit, and jacks. You may also see spotted eagle rays, sharks, and turtles here.


Virgin Islands Scuba Sites -
St Croix's West Coast
St Croix's west coast is in the lee of the island, so you generally get the calmest conditions here. There are good coral gardens and some excellent wreck dives as well as a world-renowned pier dive on the island's west coast.
Frederiksted Pier: This is a fantastic site that you can reach from shore. The old pier was torn apart by Hurricane Hugo in 1989, leaving many of the uprights still standing. These surviving pillars and the rubble are encrusted with heavy growths of spectacular sponges and corals.
You're likely to see some fish you wouldn't expect on deeper reefs, such as eels, frogfish and batfish. You can also spot various live shellfish like snails and bivalves. There's also a famous colony of seahorses here.
Divers occasionally turn up bottles in the sand here that date back as far as the 17th century.
This is a world-class Virgin Islands scuba dive for macro photographers and also a great site for night dives.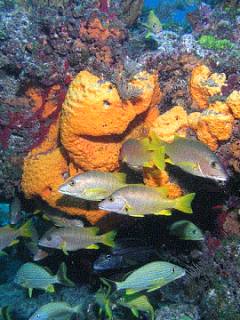 Sprat Hole: This is a good site for beginners. You'll find a sloping sandy bowl with patch reef surrounded by a rim of hard and soft corals. You can see lots of the typical Caribbean reef fish here such as tangs, damselfish, angelfish, wrasses, parrotfish, and others. This is a good place to spot a variety of moray eels. Depths range from 25 to 100 feet.

Wreck of the Rosa Maria: This is a freighter that sank off of the west coast just in the last twenty years or so. Depths range from 60 to 110 feet. The wreck is nicely encrusted with pink and red sponges and young corals. You'll see lots of schooling fish here like grunts, snappers and jacks, as well as grouper and some reef fish.


Remember, this is just a sample of some of the more popular Virgin Islands scuba diving sites on St Croix. There are many others not listed here. Check with the various local dive operators to get a complete list.



Return from Virgin Islands Scuba Sites on St Croix to Homepage




---
Photos of diver by Dr. Rosenrosen
Photo of reef fish by tiswango