Scuba USVI
Best Virgin Islands Scuba Sites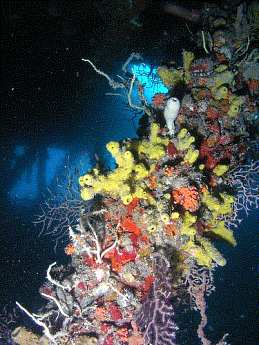 There are lots of opinions about
the best sites to scuba USVI.
You'll find that each of the islands provides outstanding dive sites. What's more, you have great choices in the kinds of Virgin Island scuba diving sites available.

You can enjoy shallow and deep reef dives, world-class wall dives, fantastic pier dives, and a variety of excellent wrecks. You reach many of the best sites by boat,
but you'll even find outstanding
dive sites right from shore.

Here's a listing of some top-rated dive sites in St Thomas and St John. This is just a sample of the many sites you can dive; check with one of the many excellent
local dive operators for more sites.


Scuba USVI
Popular St Thomas and St John Dive Sites
Because St Thomas and St John are so close together, many of the sites are visited by operators on both islands. Here are some of the more popular scuba USVI dive sites reached from St Thomas and St John.
Boulder Bay: On the north side of Thatch Cay, this offers excellent opportunities for beginning and experienced divers. There are fields of soft corals, sponge-encrusted canyons, and dramatic drop-offs to explore in 40 to 70 feet of water. The sea swell passing through a crevice in the rock makes a rythmic sound which has been described as a sea monster snoring!

Carval Rock: Due north of St John's western tip, this is a USVI dive best suited to experienced divers because of the currents here. Dramatic rock formations in 20 to 80 feet of water host a wide variety of sea life including many invertebrates as well as an array of small to large fish, including sharks and occasional manta rays.
Coki Beach: A popular beach dive on the northeastern coast of St Thomas. Very clear and calm conditions make this a good location for snorkeling as well as for beach-entry scuba with no surface swim necessary. For divers, there are two reefs in 40 to 50 feet of water. Very good for beginners. Also excellent for night dives.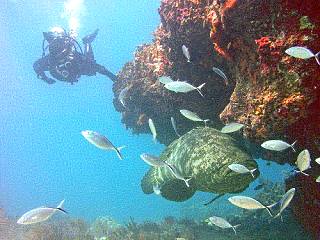 Congo Cay: Just to the west of Carval Rock. The eastern portion has currents making it best suited to experienced divers. Dramatic rock pinnacles and ridges plus lots of soft coral formations and reef fish from 25 to 80 feet deep. The southwestern portion is popular with beginners and experienced alike, and offers 30 to 60 foot depths with coral encrusted rocks and lots of reef fish, as well as some pelagic species like tarpon and spanish mackeral.

Cow and Calf Rocks: This is a popular scuba USVI dive site for introductory/resort dives and certification dives. It's also popular with more experienced divers. Lots of canyons, ridges, and pass-through arches and tunnels. A variety of marine life including soft and hard corals, schools of jacks and spadefish, and hawksbill turtles are all commonly seen here.

Grass Cay: Another site popular for introductory and new certification dives. Actually four different sites ranging from 15 to 70 feet. There are impressive, brilliantly colored corals which form huge individual mounds on a sandy bottom. You can see a variety of reef fish as well as pelagic species here.

Ledges of Little St James: Another good, sheltered site that's popular with beginners as well as the more experienced. There are numerous ledges and overhangs with lots of brilliantly colored corals and sponges in relatively shallow water, making this a good site for snorkeling, and night diving as well. You'll probably see large schools of yellowtail snappers, hawksbill turtles, and spotted eagle rays here.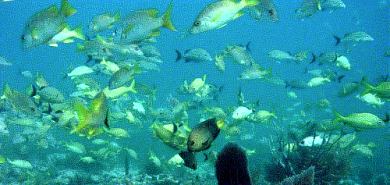 WIT Shoal: This is a popular wreck dive for experienced divers. A 300-plus foot transport which was deliberately sunk in 75 feet of water. Lots of entries and exits with good light getting inside the structure, so there's good coral growth. There's usually a strong current here, so it's not for beginners.

Wreck of the General Rogers: An excellent wreck dive, this is a 180 foot Coast Guard tender in 75 feet of water (rising to 40 feet). Well encrusted with corals and sponges, the wreck hosts lots of fish and other marine life. It's also a popular night dive. Not for beginners.

Wreck of the Rhone: This site is in British Virgin Islands waters, but because of the quality of the dive it's very popular with US Virgin Islands scuba operators. The Rhone was a 367 foot, iron-hulled sailing and steam ship that sunk in a hurricane in 1867. The wreck lies on the leeward side of Salt Cay, making for calm conditions most of the time. This is where the underwater scenes in the movie "The Deep" were filmed. Because it's in British waters, you'll need a passport for this dive.

Remember, this list is just a small selection of the St Thomas and St John dive sites available for you to scuba USVI. Check with the many local dive shops and operators to get a complete list of sites.



Return from Scuba USVI Dive Sites to Homepage




---
Photos by tiswango