Best St Thomas Restaurants and Dining
St Thomas restaurants offer all kinds of tasty food. The island is loaded with good restaurants. What's more, new ones crop up all the time, and old ones close down or change owners and styles regularly.

It would probably take months to sample all of them (I wish!) So this is not meant to be a comprehensive list by any stretch of the imagination. Instead, I'm offering some of my own favorites and places that I've heard good things about from folks I trust.

I've categorized my picks for best St Thomas restaurants by area/neighborhood and, within each area, by price range.

Also see my special picks and recommendations in St Thomas Restaurants at the bottom of the page.


Around Charlotte Amalie:
Inexpensive:
Coconuts Bar & Grill: This is a fun downtown favorite of locals and visitors. Burgers, wraps, sandwiches, and thin-crust pizzas as well as soups, salads, seafood and daily specials.
Bumpa's: Generous values in basic breakfasts and lunch items on a rooftop terrace. Great views of the harbor.
Jack's Wings: Pirate-themed, ultra-informal place for real Buffalo Wings, burgers, and other good, casual cuisine
Moderate:
Gladys' Cafe: Hostess Gladys, originally from Antigua, is warm and welcoming. Very good sandwiches, salads, and pastas and some traditional Caribbean fare like salt fish with dumplings and fresh lobster. Great, inexpensive breakfasts, too. This place is in an eighteenth-century stone building with a nice courtyard.
Cuzzin's: A traditional Caribbean place offering lots of authentic West Indian cuisine and fresh seafood.
Fagioli: In the middle of town and right on the waterfront, this traditional Italian eatery has a dining room complete with large open wine racks forthat genuine old-country feel. If you'd prefer, you can eat outside in the attractive courtyard. Try the tiramisu for dessert!
Herve: Many people say this is the best restaurant on St Thomas. Cuisine is a combination of traditional French and American with a touch of Caribbean. Great view, too!
Expensive:
Tavern on the Waterfront: Inventive French/Caribbean/Continental fusion cuisine, beautifully presented. Elegant room with a lovely location on the Charlotte Amalie waterfront.
Around the Island:
Inexpensive:
Tickle's Dockside Pub: At Crown Bay Marina, you can get very reasonably priced American food (Steaks, ribs, burgers, sandwiches, etc.) in a casual, very nice open-air environment where you can look out over the rich folks' yachts.
Frenchtown Deli: This just might be the best food value of all St. Thomas restaurants. Big, thick, excellent sandwiches, generous salads, fresh bread cooked right in the restaurant, and amazingly low prices for food you can eat in or take out.
Moderate:
Iggies: On the south coast at the Bolongo Bay Resort, east of town, Iggies is a super-informal, fun-packed lively sports bar & grill that serves big sandwiches, burgers, and Caribbean dishes for very reasonable prices. They also serve more expensive main course items.
Indigo: On the North side of the island, above Magen's Bay, at the Magen's Point Resort, this place boasts a pleasant open-air atmosphere surrounded by green hills and overlooking the pool. It takes pride in its tasty, creative cuisine which is basically American/Continental with dashes of Asian and Caribbean mixed in. Very reasonably-priced lunches; try the chicken sandwich!
Expensive:
Agave Terrace: Another contender for best of all St. Thomas Restaurants. Awesome location, great food! This place is up high on a hillside on the northeast coast (near Coral World), with a great view overlooking Thatch Cay. Very romantic atmosphere.
Banana Tree Grille: Situated above the harbor in a beautiful location at the famous Bluebeard's Castle Hotel. Creative International meets Continental cuisine. Amazing desserts, too!
The Old Stone Farmhouse: Just as you'd expect from the name, this restaurant is in an 18th century plantation house with exposed stone walls and polished wood floors. The cuisine is imaginative, eclectic, and good! Near the Mahogany Run golf course.
Red Hook and The East End:
The East End and Red Hook particularly have become my favorite part of St Thomas. Red Hook used to be a sleepy little port where the ferries to St Johnand the British Virgin Islands docked. In recent years, though, Red Hook has become a lively town with some of the best St Thomas restaurants as well as several good places to stay nearby.
Inexpensive:
Fungi's on the Beach: "Reggae Always" is their motto, and they serve genuine Caribbean dishes like roast pig and roti, fish creole, andchicken stew, as well as standards like salads and sandwiches. Up the coast (northwest along Rt. 38) from Red Hook.
Senor Pizza: Right in Red Hook, they make pizza that's as good as most of the delivery places in your hometown. And they deliver to nearby hotels, too!
Moderate:
Blue Moon Cafe: At the Secret Harbour Beach Resort, this place boasts one of the nicest settings of all St Thomas restaurants, right at the beachlooking out over the beautiful Secret Harbour. The cuisine is creative and eclectic, with very reasonably-priced lunch items (their "Junkyard Burger" is one of the best on the island). Dinner items are somewhat pricier, but imaginative and tasty.
East End Cafe: This is my favorite of all St Thomas restaurants! Real homestyle Italian food in a pleasant, intimate setting right in Red Hook. Fantastic Veal and Chicken Marsala, Spaghetti Bolognese, Ravioli in cream sauce, and many other great dishes. Mmm, mmm good!
Molly Malone's: Right in Red Hook in a very pleasant open-air terrace location overlooking the American Yacht Harbor Marina. They serve an excellent selection of American, Continental (the Danish baby back ribs are a winner), and traditional Irish dishes (try the Irish Stew!) as well as some West Indian favorites, all well-executed. Pleasant live music, too.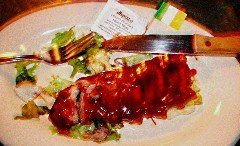 Expensive:
Robert's American Grille: At the luxurious Elysian Beach Resort on the far eastern tip of St Thomas, in a lovely open-air setting overlooking beautiful Cowpet Bay. Try the pan-fried pork madallions and the cherry chicken. Good stuff!
Off the Hook: Specializing in fresh local seafood cooked in a variety of styles, including Asian-inspired, Caribbean, and Continental styles. Pleasant two-level room. Try the Thai-style glazed shrimp.
Some Special Recommendations and Picks in St Thomas Restaurants:
Best Views:
Mafolie: Perched high above Charlotte Amalie, this place offers a tremendous, sweeping view over town, the Cruise Ship terminal, and Water and Hassel Islands and the harbor.
Room With A View: This place also offers great views over Charlotte Amalie, the harbor, and the islands.
Best Lobster:
The Lobster Grille: At Bolongo Bay about halfway between Charlotte Amalie and Red Hook along Rt. 30. They know how to cook Caribbean Lobster!
Best Hamburger:
Blue Moon Cafe: At Secret Harbour, just south of Red Hook, their Junkyard Burger is a winner!
And My Favorite of all St Thomas Restaurants:
The East End Cafe: In Red Hook, this place serves some of the best authentic, homestyle Italian food I've ever eaten, anywhere!
Return from St Thomas Restaurants to Homepage