USVI Travel Itinerary
Stay Put or Move Around
Your USVI travel itinerary will depend on several factors. When I talk about itinerary here, I'm really referring to your plan to stay in one spot or to move around, rather than your travel plans to get to the Virgin Islands, or the specific activities you might engage in.

Of course, the length of your trip will be a primary factor in determining whether you want to move from place to place on the islands or stay in one spot.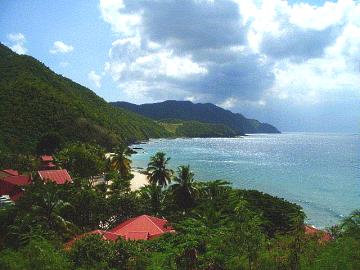 After all, if you're only going to be in the USVI for a couple of days (or even less), you won't have much opportunity to move around. At most, you may be able to take a day trip from St Thomas to St John (or vice-versa).

St Croix is far enough from the other two islands to make this sort of short day-trip impractical for most people (though it's not impossible).

On the other hand, if you're going to be on a Virgin Islands vacation for ten days, say, or two weeks, you can easily move from one island to another.

There's so much to see and do on a Virgin Islands vacation, and each of the islands is so distinctive and different from the others, that it really makes sense to explore if you have the time.

It's really easy to travel among the three major US Virgin Islands. Travel among the islands is something that I really recommend you give serious consideration to when planning your trip.

Of course, there's also the possibility of moving from one place to another on just one island. For example, if you're staying on St Croix (the biggest of the Virgin Islands), you might spend a few days around Christiansted on the north coast, and then move down to Frederiksted in the southwest for a few days.

Another possibility is to shift accommodations while staying in one geographic area. As an example, you might want to stay in a condo resort on St Thomas' east end for a few days, and then move over to a nearby luxury hotel for a while, or stay in a St John hotel for a time, and then shift to a private villa nearby.

Including this kind of variety in your USVI travel itinerary can really make things a lot more interesting and memorable.