So what do YOU want to know about the Virgin Islands?
Best-Virgin-Islands-Guide.com is your premiere Virgin Islands information source
"WOW!"... That was the first thing I said, all those years ago, when I stepped off the plane in the Virgin Islands for the first time. I was just a kid of 13 and it was our family's first overseas, "exotic" vacation.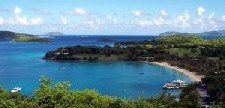 We were amazed by the spectacular beauty of the islands... lush, emerald green hillsides, intense blue skies, and turquoise water that was so bright I could hardly believe it was real.
And the weather! Bright sunshine and balmy breezes warmed our skin. The salty smell of the ocean and the sweet scents of tropical flowers and rich greenery filled our nostrils.
I felt like I'd discovered paradise. And every time I'm lucky enough to get back to the islands, I know I was right.
That first trip was filled with adventures. We swam and snorkeled the crystal-clear waters. We lazed on the beaches. We visited the fancy resorts and the elegant shops.
We explored the out-of-the-way spots, camped in the National Park, and hiked the remote trails and the old sugar plantation ruins. We even looked at real estate.
Since then, I've been back many times.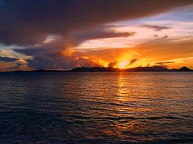 Lots of people ask me what they should know when planning to travel to the U.S.V.I. I wrote this site for them, and for YOU.
I am a very real person who has had the great fortune to visit these fantastic islands many times over the years.
Here's just a sample of the useful information and tips you'll find in Best-Virgin-Islands-Guide.com:
Best places to stay... whether you're on a budget or have "money to burn"
Don't-miss attractions
The single most beautiful beach in the Caribbean... and why you should avoid it from 10AM to 4PM
How to get around... and how not to
Virgin Islands Maps
Eating: from fancy restaurants to roadside stands to "cook-it-yourself" meals
Secret places even most locals don't know about
Dangers and annoyances
Tourist traps to avoid
The tremendous array of sports and activities available
and much more

This site is full of real, useful information and tips based on my real island experiences, and on the experiences of friends who also travel to the USVI.
Welcome. Come on in. Take your time and explore this site; there's lots of good stuff here for you, whether you're just curious, or already planning your vacation.
This is where I offer you my own honest opinions and judgments, and the opinions of other folks I trust who've also spent time in the Virgin Islands.
So sit back, relax, and enjoy everything you'll find here. My hope is that you'll get lots of useful information out of this site that will help you in your plans to visit the U.S. Virgin Islands.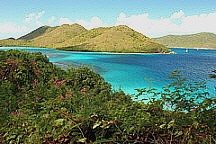 Guide to help you create your perfect US Virgin Islands vacation. Valuable facts, information, and tips for planning your USVI vacation including...
St Thomas USVI is the lively nerve-center of the U.S. Virgin islands, the place where most visitors start, the most popular cruise destination in...
St John USVI is the beautiful, unspoiled gem of the Virgin Islands. You'll discover spectacular natural beauty everywhere you look when you're...
St Croix is the diverse, distinctive step-sister of the Virgin Islands. Larger and farther from the other islands, St Croix is known for laid-back...
It's easy to get to the USVI by air. Travel to the U.S. Virgin Islands is simple from North America with lots of choices in airlines and...
Your Virgin Islands transportation will usually be by taxi or rental car on the islands and by ferry or plane between islands unless you'll be...
Virgin Islands hotels and other accommodations come in a tremendous variety of choices to suit every taste and budget (well, almost!) The best way...
St Thomas hotels: the variety seems endless. Find out your choices in luxury mega-resorts, small inns, condos, private villas, and every kind of...
You'll find plenty of choices in accommodations. St John hotels in the true sense are just one of the many kinds of appealing places for you to...
When you're exploring St Croix Hotels, you'll find everything from small, homey cottages to rental condos to plush, luxurious resorts that offer...
Fresh and delicious! That's how you describe Virgin Islands foods. With plenty of choices in restaurants and tasty foods you can cook yourself, you'll find...
Here's where you'll find my best picks in St Thomas restaurants, including casual eateries and elegant dining spots, based on the real experiences of...
For such a small island, there's an awesome array of St John restaurants to choose from, ranging from cheap eats to world-class haute cuisine and...
There are plenty of great St Croix restaurants, ranging from simple and casual to high-end elegance, but one thing's for sure, you'll find...
Find useful facts about the Virgin Islands here. Lots of fascinating information about America's Caribbean paradise to help you in planning your visit or...
Nature in the Virgin Islands is absolutely spectacular! Stunning land and seascapes, beautiful greenery, colorful flowers, and varied animals make...
Virgin Islands sea life is so colorful, so interesting, so amazingly varied, it must be one of the great wonders of the islands. Just look under...
The physical characteristics are one of the most appealing aspects of the Virgin Islands. Physical Features include gorgeous coastlines, sweeping...
Maho Bay is a legendary eco-friendly campground. Built to minimize impact on the environment, Maho offers you a beautiful setting surrounded by the Virgin Islands National Park.
Virgin Islands cities are places where you'll find great shopping, a wide variety of restaurants and accommodations, and outstanding historical sights.
When it comes to US Virgin Islands hotels, condo rental properties are something you should definitely consider. There are lots of USVI condos worth...
The length of Virgin Island vacations is certainly one of the key factors in planning any trip. The time you have to spend will determine...
US Virgin Islands vacations offer an amazing variety of activities for you to enjoy. Check out this list of fun things to do on your trip to the USVI.
When you're planning your USVI travel itinerary, you'll need to decide whether you're going to stay in one place or move around. Your plan depends...
The people taking part in your US Virgin Islands Vacation may be the most important factor in planning your trip. Where you stay, where you eat, the activities you choose, and the entire nature of...
This Virgin Island resort guide shows you what you'll want to consider when looking for a resort in the US Virgin Islands. One of the secrets of...
There's a variety of small and medium sized Virgin Island hotels that you might want to consider for your stay. Here's a discussion of these hotels.
US Virgin Islands hotel resorts offer some of the most sumptuous accommodations available. Top level service, fantastic amenities, and locations on the best beaches typefy these...
Amenities at the top Virgin Island resorts are exceptional. You'll find a very impressive array of facilities at these high-end resorts. Here's a...
There are quite a few luxurious US Virgin Islands resorts. Each of the three major islands has several of these resorts. Here's a list of the major luxury resorts, sorted by island.
Frederiksted is the smaller of St Croix's two cities. It's a charming, historically rich town on the west coast with a number of attractions worth...
Christiansted VI is a town loaded with great attractions. You'll find fascinating sightseeing opportunities in town. Here's a list of places to explore.
Fort Christiansvaern may be the most important historical structure on St Croix. It's certainly the most imposing building in Christiansted. You'll...
Christiansted is the bustling heart of St Croix, its premier city, and a hub for tourism and much of St Croix's cultural and historic heritage. Learn the best...
What should you know to make the most of your US Virgin Islands travel? Here are some useful tips, guidelines, and considerations to help you get the most out of your trip.
There are some things to be aware of on your Virgin Island vacation. Here are some simple safety tips to ensure your trip stays fun and relaxing.
Safe Virgin Island travel is easy if you follow these common-sense guidelines. Make the most of your Virgin Island vacation with these simple precautions.
Buck Island Reef National Monument is one of the most popular attractions on St Croix. This beautiful place is the only National Monument that's underwater. At its heart is Buck Island, a pristine...
Virgin Island scuba diving is one of the most popular activities in the islands. With dozens of great dive sites, and lots of licensed operators on each island, exploring the crystal-clear...
Water Island is sometimes called the fourth Virgin Island. This little island is nestled right in Charlotte Amalie Harbor, just off the coast of St Thomas. It's a great place to get away from the...
There've been so few Virgin Island shark attacks over the last century that, compared to the millions of visitors coming to the islands each year, your odds...
Charlotte Amalie is the Capital of the Virgin Islands, the fast-paced, lively heart of St Thomas. You'll find a little bit of everything here, including...
You'll find lots of great sites to scuba USVI. Check out this list of some of the most popular dive sites in the US Virgin Islands as well as descriptions of...
Virgin Islands scuba opportunities abound on St Croix. You get great wall dives along the north coast, and excellent wreck and pier dives off the west coast. Check out this list of the most...
Virgin Islands National Park is a priceless blessing. The park protects the untouched beauty of nature on St John. The preservation of this pristine...
When it comes to Virgin Island history, the Danish Colonial period was among the longest lasting. For nearly 200 years, the U.S. Virgin Islands were the Danish West Indies.
St Thomas hotel guide. List of medium to large hotels on St Thomas with locations and descriptions of amenities, facilities, and prices.
Virgin Island yacht charter guide. Learn about your choices in yacht charters in the Virgin Islands. Types of boats, costs, package deals, and more.
Have a question or comment? What can we do to make this site better for you? Contact us at Best Virgin Islands Guide here.
Description and photos of Magens Bay beach on St Thomas. Magens Bay is one of the most beautiful and popular beaches in the U.S. Virgin Islands. Learn more about this...