USVI Weather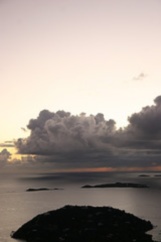 USVI weather is a delight. It's certainly one of
the most appealing aspects of the islands. The climate in the virgin islands is nearly perfect.

Winter temperatures are generally in the low eighties during the day, dropping to the mid seventies at night. In the summer, temperatures are usually in the high eighties during the day
and the low eighties at night.

Regular trade winds mean there's almost always
a pleasant breeze to keep you cool and comfortable. The sun shines most days.

There's about 40 to 50 inches of yearly rainfall, and that comes mostly at night. Even when it does rain during the day, it tends to come and go quickly, in the form of brief showers. When humidity is high, it can feel muggy, so most places provide you with air conditioning and/or fans.

Take a look at the weather table below for monthly average temperatures and rainfall during the year.
Average Temperature (Day/Night) and Rainfall in the U.S. Virgin Islands:
| | | |
| --- | --- | --- |
| Month | Temp (F.) | Rain (in.) |
| January | 82 / 75 | 2.2 in. |
| February | 82 / 75 | 1.8 in. |
| March | 83 / 77 | 1.8 in. |
| April | 84 / 78 | 2.8 in. |
| May | 85 / 80 | 3.7 in. |
| June | 86 / 82 | 2.6 in. |
| July | 87 / 82 | 2.9 in. |
| August | 87 / 82 | 3.8 in. |
| September | 86 / 81 | 5.5 in. |
| October | 86 / 80 | 5.3 in. |
| November | 84 / 79 | 6.1 in. |
| December | 82 / 77 | 3.4 in. |
Return from USVI Weather to Facts About the Virgin Islands page
Return to Homepage