Caneel Bay Resort: Elegance on St John
Is Caneel Bay Resort the most beautiful place on Earth? I'll admit that's quite a claim.

But before you accuse me of exaggeration, consider this: visitors who've stayed at the resort say it's the most beautiful place on St John. And people who've visited the most beautiful spots around the world say that St John is the most beautiful place they've ever been.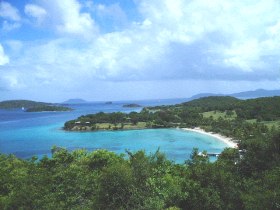 Laurence Rockefeller, the grandson of oil magnate John D. Rockefeller, Sr., thought St John to be the most beautiful place he had ever seen. He proved it by buying up a large portion of the island, and later donating the acreage to the U.S. government to become the Virgin Islands National Park in 1956.

Part of the donation was Rockefeller's personal estate on St John. It was this estate that was the beginning of Caneel Bay resort. Rockefeller's vision was to create a retreat that blended into the natural beauty of the surroundings.

It wasn't long before Caneel Bay became the preferred destination for celebrities and other well-heeled travelers seeking peaceful elegance and privacy in the Caribbean.

Caneel is a destination where celebrity multi-millionaires came to be treated like any other anonymous, run-of-the-mill multi-millionaire.

It's recognized as the original, old-line resort on St John.
Caneel Bay typifies genteel, understated elegance. It's long been considered one of the premiere resorts in the Caribbean.
If you're looking for glitz, glitter, and every modern convenience, Caneel is not for you. It has no televisions or phones in the guestrooms. You won't get 24 hour-a-day, waited on hand-and-foot service here, either.
Nevertheless, it's the kind of place that's long attracted the top movers and shakers.

The resort is situated on 170 stunning acres within the Virgin Islands National Park. The grounds and buildings were designed to highlight the pristine beauty of the surroundings.
And in that regard, the resort undeniably succeeds.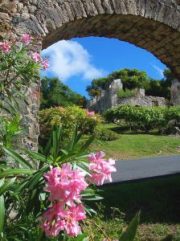 Unfortunately, there have been some complaints in recent years that the service at Caneel is not what it used to be. Some people believe that the management is simply not up to the task of managing this level of resort. And, the truth is, for a place that charges the rates Caneel charges, service (and the management responsible for it) should be nearly flawless.

So, should you stay at Caneel Bay or not?

The answer is... it depends.

How you react to Caneel will depend largely on your expectations. If you're spending your money for the natural beauty, the spectacular, pristine surroundings, and the gorgeous beaches and awesome snorkeling (and you're willing to deal with service that runs on "island time"), you'll probably be pleased.

On the other hand, if you're expecting your money to buy quick response, top of the line service, and modern conveniences and luxury, you're likely to be disappointed.

It's also important to remember that you'll be in the middle of a tropical natural environment. That means semi-wild donkeys wandering the grounds, the loud chirping of tree-frogs at night, and, yes, insects.

High-season rates start at $550 per night.

Caneel Bay has five restaurants, tennis, watersports center, concierge, and private ferry service to and from St Thomas.

Probably the best rooms are on Turtle Bay and Scott's Bay.

Telephone: (340) 776-6111
Fax #: (340) 693-8280
E-mail: caneel@rosewoodhotels.com
Address:
P.O. Box 720
St. John, VI. 00831-0720



Return from Caneel Bay to St John Hotels page
Return to Homepage